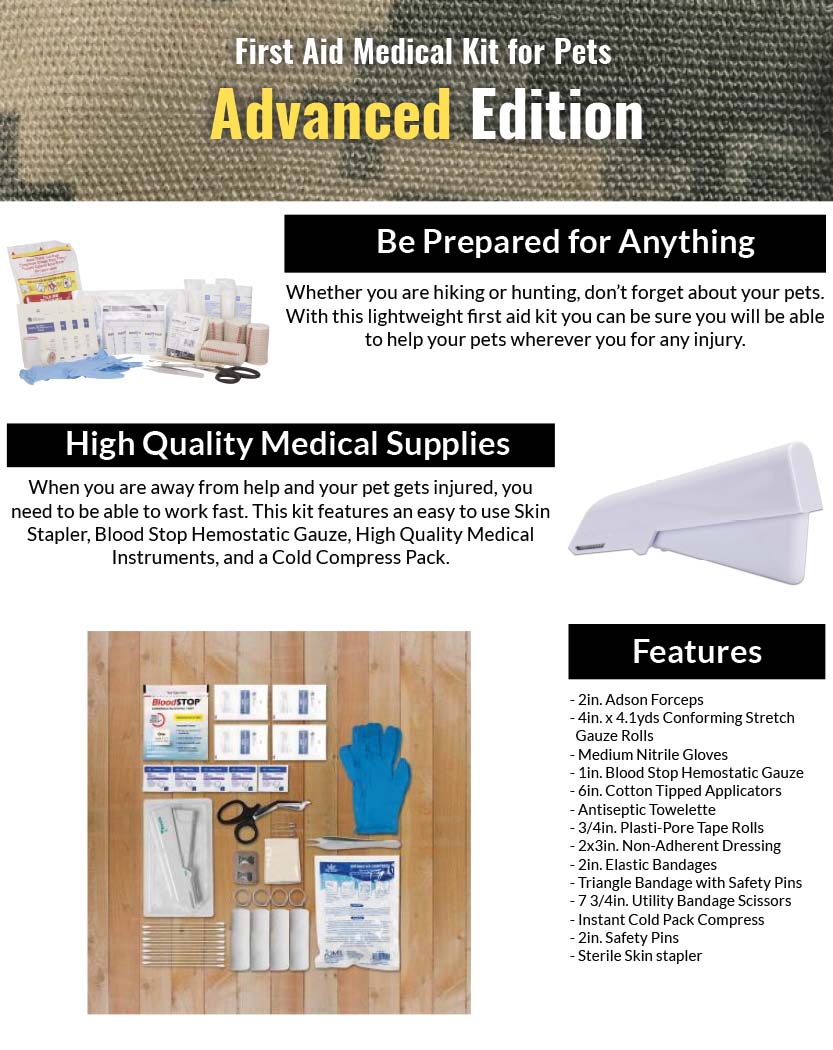 Do not forget about your pet when planning for emergencies. Your pet has unique needs, and this pet first aid medical kit delivers the supplies you need to care for your pet. This advanced first aid medical kit for pets contains everything you need to treat minor to moderate wounds, including wound closure supplies such as a sterile skin stapler preloaded with 35 staples. This comprehensive kit comes with a variety of supplies to treat your pet in an emergency. From the dog park to extended hunting trips, this kit will keep you prepared for your pet's safety.
Features
Sterile Skin Stapler
Medical Grade Instruments
Blood Stop Hemostatic Gauze
Instant Cold Pack Compress
Contents
(1) 2in Adson Forceps
(4) 4in x 4.1yds Conforming Stretch Gauze Roll
(2) Medium Nitrile Gloves
(1) 1in Blood Stop Hemostatic Gauze
(8) 6in Cotton Tipped Applicators
(4) 1in Plasti-Pore Tape Rolls
(4) 2x3in Non-Adherent Dressing
(4) 2in Elastic Bandages
(4) Antiseptic Towelette
(1) Triangle Bandage With Safety Pins
(1) 7 3/4in Utility Bandage Scissors
(1) Instant Cold Pack Compress
(2) 2in Safety Pins
(1) Sterile Skin Stapler
All instruments are medical grade stainless steel. Skin Stapler is sterile. When it counts, this lightweight and compact first aid kit will be easily deployable to treat most wounds.

Wound-Care-Kits-And-Packs" width="100%" height="400" frameborder="0" marginheight="0" marginwidth="0">*}